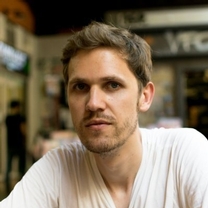 As Creative Director at Kartogram, I oversee all projects to ensure the highest quality and the best design and development outcome possible. I am extremely proud to have established such a successful business and really enjoy leading such a creative team.
I have always had a passion for technology, IT and computing, all of which naturally lead me to pursue a Bachelors Degree in Applied Science in Information Systems at Oxford Brookes University.
During my studies, I focused mainly on graphic and web design, information systems management, project management, and commercial programming. Mastering new coding techniques, exploring various design perspectives and keeping up to date with current market trends all formed a large part of my studies. I knew I wanted to take my passion for web development into my career and so Kartogram was born! The company aim is simple, to deliver high quality, bespoke web-based projects to our clients - projects that encapsulate each businesses' individuality.
Kartogram now serves clients in the United Kingdom, Ireland, and the United States. I'm always up for a challenge, so feel free to test my knowledge and skills. Professionalism and attention to detail are key to my work ethic, this is how I work, and this is how my team works too.
Addictions