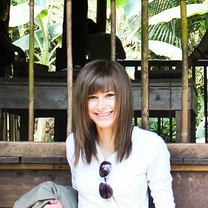 Stana Orihel
Senior Designer
I have always been interested in design, whether an arty project at school, drawing my dream house or designing my own room. I love putting ideas together, reflecting on an organisation's brand essence and incorporating this into a bespoke design package.
At Kartogram, I focus on collateral design (brochures, flyers, promotional materials). I also advise on different design projects and social media management. I've worked in sales & marketing for an internationally known hotel company and have learnt how brand guidelines can work across different brands within an extensive brand umbrella, whilst at the same time, remaining unique. Managing the collateral for such a large organisation gave me a great foundation for my role at Kartogram.
Call me crazy, but I love symmetry – lines, justified text, you name it. I'm definitely one of those people that go around adjusting objects! And what keeps me going throughout the day at work? Green Tea! and lots of it...!
Addictions