Behind the design: Leyos

We recently added to our custom web design portfolio with Leyos. Kartogram have always enjoyed working with the Leyos team and wanted to show you a little more of our custom design work with them. From their website and social media platforms to their amazon product profiles - we've loved creating custom web designs for Leyos and can't wait to continue in the future!
Leyos is an eco-friendly and deluxe skincare brand offering products that are safe, high-performance, and free of toxins. They are passionate about eco-conscious and healthy living - driven by the idea that everything we put onto our skin is absorbed into our bodies.
The Leyos team initially approached Kartogram looking for a redesign of their shopify-hosted website. Whilst they were happy using Shopify as a platform for their business, they wanted a fresh new look for their user interface to ensure their brand continued to stand out to customers and support their fantastic products in the best possible way.

Their existing website consisted of a predominantly white colour palette. Despite giving the Leyos brand a sleek and modern look, the white designs were drowning out their product packaging (which is also white), causing the product images to compete with the website design. To overcome this and place the Leyos products firmly at the centre of their custom web design, we reimagined the website colour palette and introduced a soft, feminine pastel colour scheme.
Our favourite element of this design concept was working with the colour wheel to draw the eye into the design and support the white product packaging into the centre of attention. We decided to use pink as the primary colour and overlay green leaf graphics to create a contrast. By dialing the tones in opposite directions (making the pink lighter and the green darker), we were able to create a finish that successfully captures attention without stealing the show. The soft white Leyos products jump out on the page and look luxurious.
Happy with what we created, we extended this colour palette into our instagram story templates. Playing around with these colours allowed us to get creative with our designs whilst still in keeping with the new Leyos brand palette.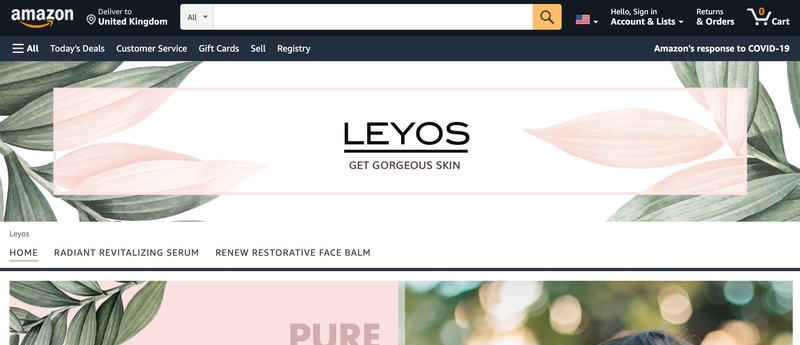 We were thrilled with how our final custom web designs turned out in this project, and thankfully so were Leyos. Since our initial project with them, their team have returned to us for design advice and bespoke amazon product profile page design. We were (and always will be!) happy to create new custom designs for Leyos.
If you like the look of what you see and feel that your business could do with a fresh new look, get in touch with Kartogram today. We'd love to learn more about your brand and talk through ways we can help you to achieve your dream custom web design.
Back To Blog