Behind the design: Now.Study

Earlier this year, the Kartogram team completed a custom web design project with Now.Study, an education support organisation based in Oxford, UK. They asked us to work our magic on their logo and overall online brand presence. We were delighted to put the Kartogram team's extensive experience designing for the education sector to good use. Here are a few sneak peeks of our process during the Now.Study project.
Now.Study launched their business earlier this year, aiming to support students from all over the world to apply to University in the UK. Their friendly team provides guidance for every part of the higher education process, including choosing a course, the application stages, securing visa status, and preparing for the start of term. Now.Study's support services are entirely free of charge to access, making what they do even more fantastic.
Now.Study gave us total freedom with our creativity on this custom web design project. Tasked to produce a logo, thumbnail logo, and landing page website - we got to work.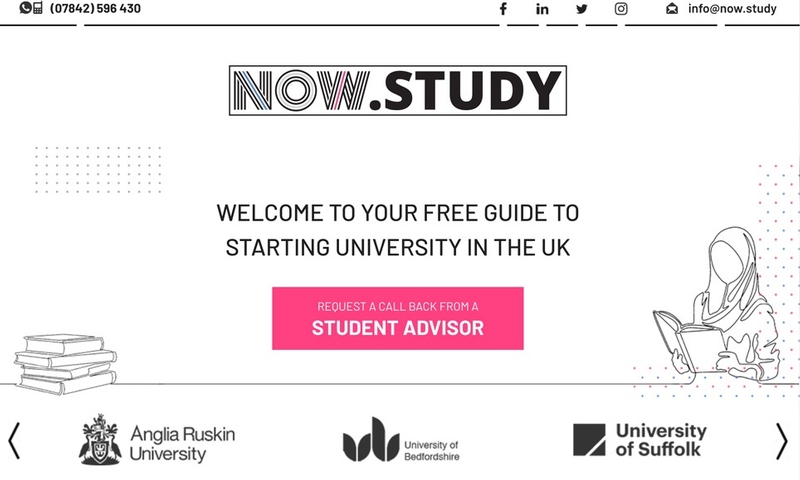 We took our initial inspiration from the characteristic "." from the Now.Study name. Creating a number of motifs using these dots in the first instance, we then offset these patterns with lines and line-drawn graphics. Combinations of dots and lines worked well for us here as although appearing as visual opposites, they are of course a classic pairing from the written form of morse code - reflecting the services provided by Now.Study as they help students to contact universities.

The Kartogram team continued the dot and line motifs into the Now.Study logo itself, as well as into the thumbnail designs. The colour palette we chose also reflected the idea of using opposites together - the pink and blue providing the perfect colour clash to ensure that Now.Study stands out from its competitors in the education marketplace.
All in all, we're really happy with how these custom web designs came out, and the Now.Study team were too! If you'd like to see more of this project, check it out in the Kartogram online portfolio.
If you like what you see and want to challenge the Kartogram team to take your business design to new heights, contact us today and let's get started! Your next custom web design project could change your business forever!
Back To Blog