Behind the design: R.B College

Last week we completed a brand new custom website project for R.B College. We're incredibly pleased with how RBC's fresh new look turned out, and we want to tell you all about it!
R.B College is a leading community college based in the UK with campuses in the heart of London and in the centre of Birmingham. RBC offers both undergraduate and postgraduate courses, aiming to provide the highest levels of education and promote bespoke study programmes for international students. Flexibility is at the heart of what R.B College is about - that's why they work with each individual student to understand their needs and help match them with the best possible study programme.
The Kartogram team were asked to design and develop a brand new custom website for R.B College. RBC were looking for a stylish layout with great UX to entice potential students. Using their existing brand logo - a traditional-style English coat of arms - as a starting point for this project, we got to work.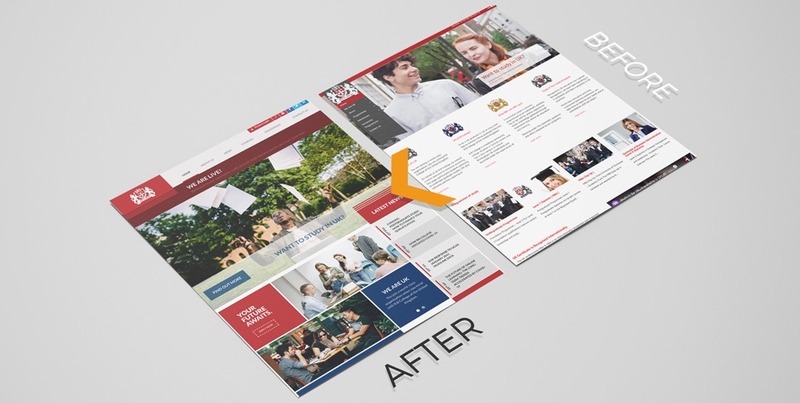 The existing R.B College website was bare and boring, so we introduced a brand new design scheme based on the UK colours of red, white, and blue to enhance their brand aesthetic. We upgraded the landing page layout, incorporating a grid design to break up the different areas of the website and the expanse of information available across RBC's platform.
We've introduced two types of custom-built contact form to allow RBC to connect with students in multiple ways. We've also integrated a google map feature as well as embedded buttons linking to the RBC social media channels. Behind the scenes, R.B College now benefits from a custom built Kartogram CMS, meaning their team can update and tweak their website content as their organisation continues to grow.

We think that the final custom website design for R.B College looks absolutely fantastic. Thanks to Kartogram, the RBC site is easy to navigate and great to look at. The functionality of the site is at a completely different level to where it was previously. We've really enjoyed this project and we're glad to hear R.B College are happy with the results!
Have you got a slow and outdated website that desperately needs an update? Are you just starting out with your business and need an outstanding website ahead of your launch? Get in touch with the Kartogram team today. We're experienced in all areas of custom website design and web development, and we just love a challenge. Find out what we can do for you and your business by contacting our friendly team.
Back To Blog