Behind the design: TidyRoom Records

We recently worked with TidyRoom Records on their brand identity and it's been one of our favourite projects of the year so far. We had so much fun putting these custom designs together, we thought we'd show you a little more of the process and the inspiration behind the design.
TidyRoom Records
are a small independent recording studio based in Oxford, UK. They came to us looking for a full set of brand identity designs, giving us free rein over the look and feel of the project. We created a stylish new logo for them along with unique banners for their Facebook and YouTube profiles.
Check out the finished designs here in our portfolio
.
As for the inspiration? We wanted to create a logo for TidyRoom that was firmly rooted in the music industry, so we began by playing around with traditional musical images like vinyl records and piano keys. As our research continued, we were drawn to the visuals of the vintage cylinder piano - an early style of piano that featured a rolling bar of notches or perforated paper that controlled the movement of the keys.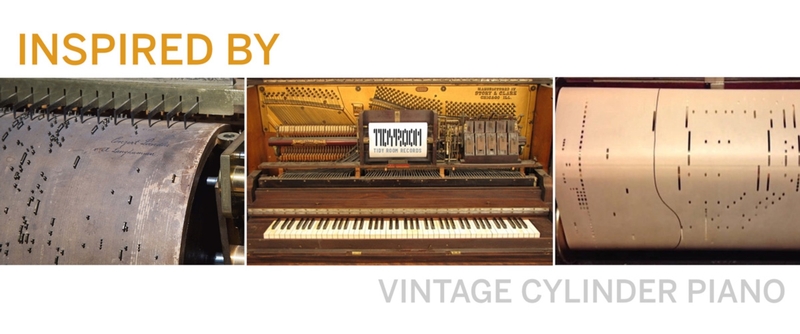 We loved the idea of the cylinder as it felt to us like a musical version of morse code - looking at first glance like a random collection of dots and lines but coming together to produce beautiful and perfect sounds every time. It felt like the perfect image for TidyRoom Records, as the heart of their business is about creating beautiful sounds.
As we moved on to the design stage, we opted for a largely monochrome colour palette to capture the contrast found on piano keys. This would ensure that TidyRoom's logo always stood out to the crowd. We also produced a few variations with colour to demonstrate the versatility of the main design. Our favourite is the gold version (pictured below) - inspired directly from the tones of yellow and brown found on the vintage cylinder piano.

We used the above variations to develop the full brand identity package for TidyRoom, and were thrilled that they loved our custom designs as much as we enjoyed creating them!
Like what you see? If your business is in need of a new logo or brand identity, get in touch with us here at Kartogram. Whether your custom design requirements are large or small, we're always happy to help -
contact us today!
Back To Blog