Behind the design: Vitatoe Real Estate Group

It's been a while since we last took you behind the design on one of Kartogram's projects, so we thought we'd look back at one of our favourite custom website designs from March this year and tell you more about our process.
Did you see our portfolio post for Vitatoe Real Estate Group when it went live?
The Vitatoe Real Estate Group is a professional realtor agency based in Michigan, USA. With over ten years of experience helping clients find and secure the home of their dreams, Jess and Joe Vitatoe are seasoned experts in providing great customer service and securing real estate success.
After 10 years in the real estate game, it was time for Vitatoe Real Estate Group to upgrade their website and brand identity. The brief for both elements was as follows: clean, professional, and functional. Keep reading to see how we got on - personally, we think we nailed it!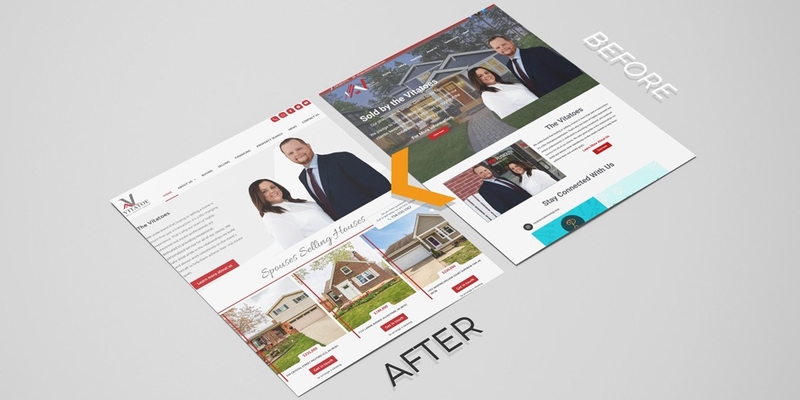 Starting with the custom web branding, we created a sleek and professional logo for the Vitatoe Real Estate Group, modelled around two key images - a house to represent the real estate business, and a "V" to reflect the family element of the Vitatoe brand. With the two symbols sitting neatly and harmoniously together, the finished logo tells the full story of the brand: a house plus the Vitatoe team makes a home.
Keeping things simple, we stuck with a fresh red, grey, and white colour scheme for the branding - extending this throughout the website as well to tie the two projects with Vitatoe together.

As for the website, we completely redesigned and rebuilt Vitatoe Real Estate's Wordpress website, ensuring their new custom designs run faster than ever before. Equipped with custom RealScout IDX integration, embedded enquiry form with FollowUp Boss, custom mortgage calculator, and embedded Google maps and reviews - the Vitatoe team are fully equipped to continue providing top quality service to every one of their clients.
If you like what you see and want to know more about what Kartogram can do for you, get in touch with our custom web design team today. Let's get talking!
Back To Blog