Custom built business application launch for Furex

Earlier this year, the Kartogram team launched a brand new custom application for Furex, a long-standing client based in Chicago, USA. We'd thought we'd tell you more about the custom application we designed and built for them, and how it's improved their business since it went live.
Furex is a Chicago-based transportation company specialising in TL, LTL, logistics, cross-docking, and truck/trailer repair services. A significant part of their business involves organising and overseeing short and long haul transport journeys, all of which are tracked to ensure they arrive on schedule and in the correct location. Furex's existing system allowed them to upload and track their cargo journeys, however its functionality was significantly lacking as each load order took between 5 and 10 minutes to upload onto the system! Over the course of weeks and months, this was wasting large amounts of business time and preventing the Furex team from performing at its best.
Furex decided to approach Kartogram for a solution. Our team had already worked wonders with their custom branding and custom web design, so we were the perfect candidate to take on building a completely custom application system for them!
Fast forwarding a little - here's what we came up with.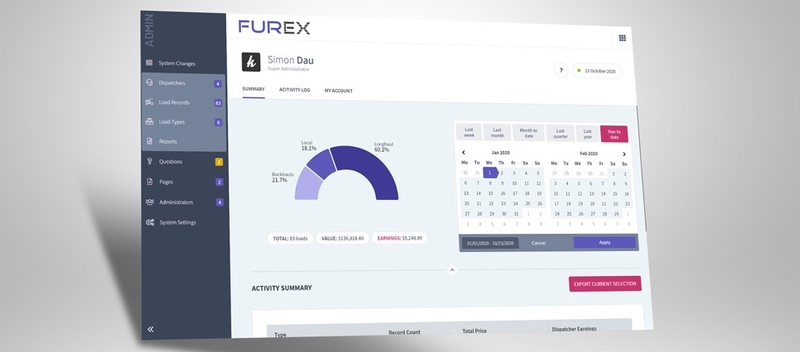 The new custom application we created for Furex was designed in response to their exact specifications. They told us precisely what they wanted their system to do for them and we used this as a guideline throughout our process to ensure that everything we did would provide an end-user benefit.
This new custom system takes just 5 seconds to upload a load order. We've completely reimagined the functionality of Furex's old system, removing needless pop up windows and speeding up the system performance, allowing their team to process orders promptly and hassle-free. The user-friendly design doesn't stop there - we've integrated a whole range of statistical data into the application so Furex can see overall and individual progress with just a few clicks. Load orders, driver activity, load types and much more can all be accessed from the menu bar. The integrated calendar feature also allows for report searches and load submissions by date.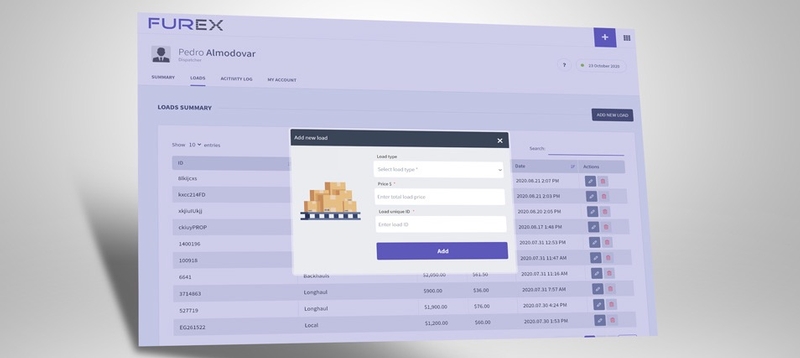 This is a multi-user application, so not only can the company leaders check in on the overall performance of the business, individual team members can view their load and activity history, commission earnings, and manage their personal information through their own profile. We've also integrated a question function, meaning team members can log queries and questions directly through the system. The user screens are completely responsive, meaning the system can be accessed through any device - on a desktop or on the go via mobile. All of this is managed through a bespoke CMS, which we've designed once again with the user experience in mind.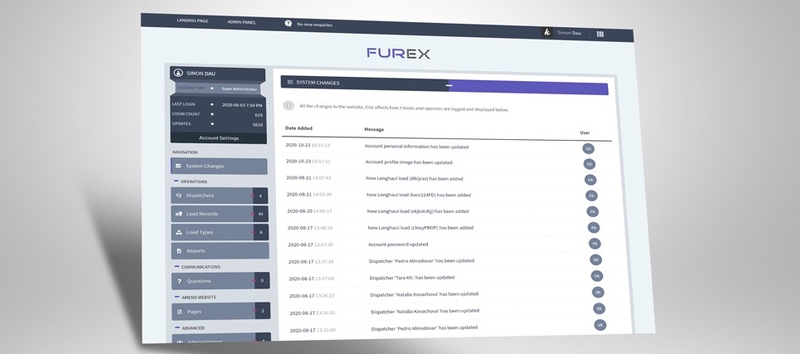 The Furex team were so pleased with our work on this that they started using our custom system application in their business even before it went live! We happily transferred all of the existing data that they had input across to the live system when it was fully launched. Since then, we've been so pleased to hear that Furex's business productivity has gone through the roof! Our application has optimised their processes, allowing their team to generate and track business at a quicker rate than ever before. Ultimately, Furex has become a more profitable business, using their time and staff more productively to generate more revenue.

Kartogram continues to provide Furex with ongoing support as their business grows and their needs change. Following a one time fee for the design and building of their application, we've remained on hand to offer advice with their system and design needs, all free of charge.
Here at Kartogram, we build meaningful relationships with all of our clients. If you'd like to learn more about what we can do for you and your business, get in touch with us today.
To see more of our custom web design, bespoke branding, or unique web application projects, take a look in our portfolio.
Back To Blog