HARC custom web application launch

Kartogram recently launched a brand new custom web application for HARC, a non-profit health and research organisation based in the USA. HARC is a research portal that stores and collates information that is then used for surveys and reports. They focus on collating information about health and the conditions in which populations live, learn, work, and play. They directly help community leaders to turn information into action, and their data analysis directly improves people's lives by influencing social policy.
The HARC team approached Kartogram looking for a complete redesign of their existing data management portal. They were finding their existing system to be slow and outdated. They were also trapped uploading bulk data once every few years. Their existing setup wasn't user friendly and was no longer working for the needs of the organisation.
We started by understanding what HARC needed from their new custom web application. The team were happy with the functionality of their existing system and the actions that it could perform, and so we took the time to understand how their existing system worked in order to ensure our new application met (and exceeded) their business needs. Next, we built their new custom web application from scratch, ensuring to incorporate all of these existing functions as well as some new features of our own.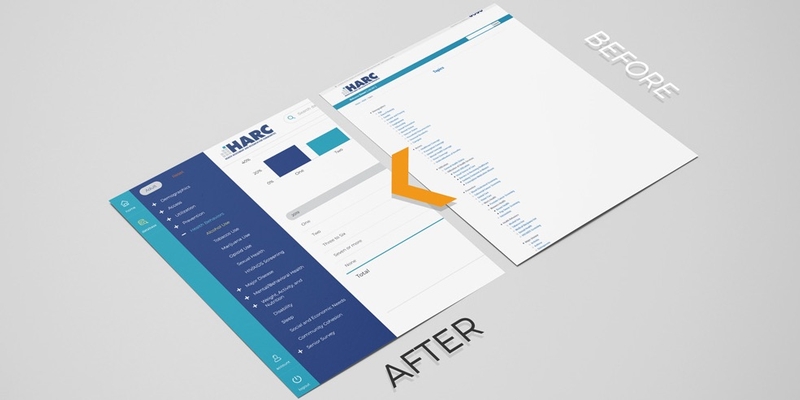 Now, HARC's new admin panel allows for the importing of multi-sheet excel documents exported from IBM SSPS statistics software. We've also integrated calculation functions that allow the custom web application to output data in a readable format (including representative charts). Their new custom web application also allows HARC to freely upload new data and research directly onto their portal within a matter of minutes, negating the need for bulk uploading every fews years and allowing their organisation to be more current and relevant to their users.
Speaking of users, for public user profiles we've added a search history and usage statistics feature. The overall visual design of the application has been reimagined as well, ensuring that the application is user friendly for a wider audience and of course, is responsive across devices.

Here at Kartogram we love working on custom web applications. Seeing how our custom web designs and web development projects impact directly on business performance is one of the most rewarding parts of what we do. We were very happy to design and build HARC a more user friendly custom web application, and ultimately improve the productivity of their business model.
If your business relies on a custom web application which isn't quite working in the way that you want or need it to, why not get in touch with Kartogram and chat with us about how we can help? It's important that your web application adapts to meet the needs of your business as it grows. We could help you make those changes today!
Back To Blog